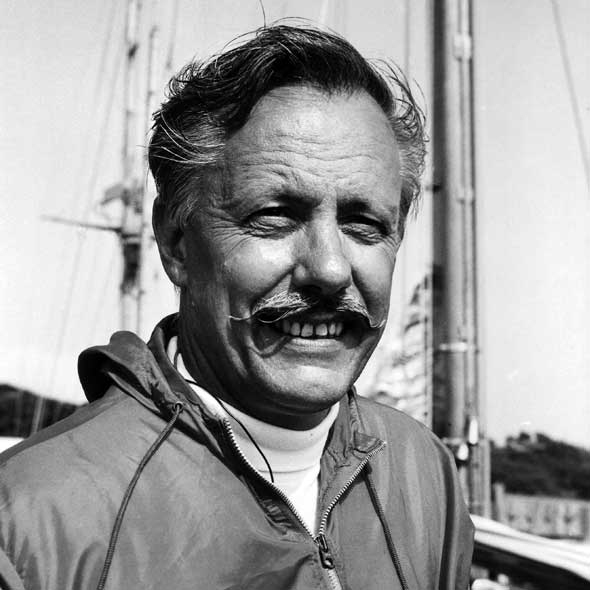 Welcome to The Robert Manry Project
The Robert Manry Project is a multimedia effort to remember the life of Robert Neal Manry, a unique American who sailed into history in 1965 when he completed a successful 78-day solo voyage across the Atlantic Ocean in his tiny wooden sailboat, Tinkerbelle.
Although he is mostly remembered for that feat, Tinkerbelle's remarkable ocean passage from Falmouth, Massachusetts, USA, to Falmouth, Corwall, England, comprised only a small portion of Robert's wide-ranging life. The Robert Manry Project is dedicated to exploring the many facets of its namesake, who demonstrated so clearly that anyone can achieve anything he or she sets out to accomplish. It is possible. It can be done. You can make your dreams come true.
We look forward to sharing stories gathered from people who knew Robert. For many people, the incidents surrounding the voyage of Tinkerbelle remain defining moments of their lives. Many thousands of people around the world have been inspired by his book. For others, Robert was a fascinating, creative, diversely talented man, known for his introspection, wit and booming laugh. Our goal is to document a complete portrait of this singular man. We hope you'll enjoy what you discover here and be inspired to pursue your own dreams.
This website presents ongoing research about Robert Manry's life, family, work and adventures. The Robert Manry Project (RMP) maintains the Robert Manry Archives, which contain Robert's original photographs, motion pictures, audio recordings, oral histories, lectures, manuscripts, and correspondence, as well as an abundance of newspaper and magazine articles, other ephemera and artifacts. The collection spans his entire life, including his major voyages in Tinkerbelle and Curlew.
Among the unique resources available at this website is a transcription of Robert's handwritten logbook of Tinkerbelle's famous trans-Atlantic voyage.
A major endeavor of the Robert Manry Project is to produce a feature documentary film, Tinkerbelle Sails the Atlantic, about this fascinating man, his boats, and his voyages, which continue to stir the imaginations of adventurers today.
Another goal is to publish Robert's unfinished tale about his 1967 voyage in Curlew, a circumnavigation of the eastern United States. The first draft account of Manry's second major voyage was largely complete when he abandoned the manuscript, in grief over the sudden, tragic death of his beloved wife, Virginia.
RMP is very interested in locating anyone who knew Robert, in order to preserve as complete a record as possible. If you have a story, reminiscence, photograph, or can otherwise contribute to the fullness of Robert Manry's story, we'd love to hear from you.
Fair winds…       Enjoy the site…       And dream…